DNA FINGERPRINTING
DNA fingerprinting is a method used to identify living things based on samples of their DNA. Instead of looking at the whole sequence of a person's DNA, these techniques look at the presence or absence of common markers that can be quickly and easily identified.
The technique was developed in 1984 by British geneticist Alec Jeffreys, after he noticed that certain sequences of highly variable DNA (known as minisatellites), which do not contribute to the functions of genes, are repeated within genes. Jeffreys recognized that each individual has a unique pattern of minisatellites (the only exceptions being multiple individuals from a single zygote, such as identical twins).
DNA Fingerprinting Explained
The process is sometimes called "DNA testing" or "DNA profiling", but signals the same process. Early DNA fingerprinting was developed in the years before the whole human genome had been sequenced. DNA fingerprinting typically relies on short tandem repeats (STRs), which are unique to individuals. These sections of DNA can be compared between two different samples. If they show the same pattern after gel electrophoresis, it indicates that the samples are from the same source.
A DNA fingerprint looks something like the columns on the paper below. On this paper, each dark band represents a fragment of VNTRs – and each column is a different tissue sample. A match would be indicated by two columns whose VNTRs patterns matched precisely.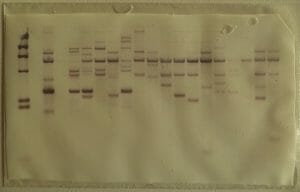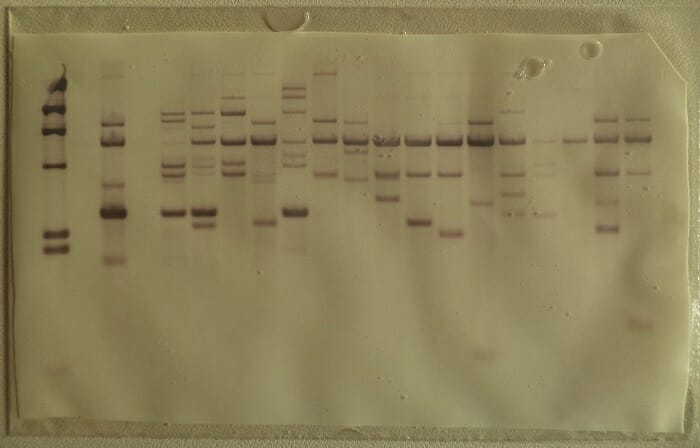 DNA profiling is different from genetic testing, in which a DNA sample is tested to see if it contains genes for inherited diseases or other traits.
Steps of DNA Profiling:
Isolating the DNA.
↓
Digesting the DNA with the help of restriction endonuclease enzymes.
↓
Separating the digested fragments as per the fragment size by the process of electrophoresis.
↓
Blotting the separated fragments onto synthetic membranes like nylon.
↓
Hybridising the fragments using labelled VNTR probes.
↓
Analysing the hybrid fragments using autoradiography.
DNA of every person is 99.9% identical but there is a 0.1% differences among individuals. The DNA sequence is just like fingerprinting. There are so many bases which are time-consuming but now scientist introduced some techniques which quicken the identification process. This (DNA fingerprinting) technique is like a bar-code of an individual's DNA.

Practical Applications of DNA Fingerprinting
Paternity and Maternity: Because a person inherits his or her VNTRs (Variable Number of Tandem Repeats): Tandem repeats are frequent in the human genome. The number of repeats in variable between individuals from his or her parents, VNTR patterns can be used to establish paternity and maternity. Parent-child VNTR pattern analysis has been used to solve standard father0identification cases as well, as more complicated cases of confirming legal nationality and, in instances of adoption, biological parenthood.
Criminal Identification and Forensics: DNA isolated from blood, hair, skin cells, or other genetic evidence left at the scene of a crime can be compared, through VNTR patterns, with the DNA of a criminal suspect to determine guilt or innocence. VNTR patterns are also useful in establishing the identity of a homicide victim, either from DNA found as evidence or from the body itself.
Personal Identification: the notion of using DNA fingerprints as a sort of genetic bar code to identify individuals has been discussed, but this is not likely to happen anytime in the foreseeable future. The technology required to isolate, keep on file, and then analyse millions of much specified VNTR patterns is both expensive and impractical. Social security numbers, picture ID and other more mundane methods are much more likely to remain the prevalent ways to establish personal identification.
Problems:
Like nearly everything else in the scientific world, nothing about DNA fingerprinting is 100 assured. The term DNA fingerprint is, in one sense, a misnomer: it implies that, like a fingerprint, the UNTR pattern for a given person is utterly and completely unique to that person. Actually, all that a VNTR pattern can do is present a probability that the person in question is indeed the person to whom the VNTR pattern (of the child, the criminal evidence or whatever else) belongs.
Issues which are involved in genetic typing are degradation of sample, mishandling problems, errors in hybridization and probing process, privacy issues, negligence, un-experienced person, default with database, intermixing and fragmentation of samples, incorrect data entry, storage issues, miss-matches, identical twins, DNA evidences easily planted at a crime scene 
 Corruption, tampering with evidence, misconception during labeling sample.
DNA also degrades with prolonging contact to sunlight, humidity, and heat. Instrumental errors also lead to the unreliable results.
One key disadvantage of DNA analysis is the potential for invasion of individual privacy. Because a person's DNA divulges a lot of information about his physical state, it is sensitive information that must be carefully guarded. Information about an individual ethnic background and percentage could become a cause for discrimination. Law enforcement agencies and federal government pressure the companies to share your DNA.
Cell free DNA is dubbed as template DNA. When the amount of DNA is less than 200 pico-gram then it's known as low template DNA. It leads to higher chances of contamination. Low template DNA are coming to court with inadequate capabilities for sound interpretation. There is a danger with limited DNA but experts know how to handle and manage them. This problem can be tackle with the help of PCR technology through which amplification can be done of tiny amount of DNA converted into many copies of DNA to achieve its profiling. But chemicals which are used in drawing out of DNA inhibit the fruitful DNA amplification . Unfortunately, proper management is not a universal practice.
More touch DNA shreds of evidence submitted a more poor quality interpretation of results formed. Touch DNA contaminates pieces of evidence.